Premier Series Windows
Full 3″ Thick

REAL

Glass Block 
Select from 5 distinctive glass block patterns

Two-color frames are standard!
Durable Powder-Coat Frame Finishes
Choose one color for the outside, another for the inside (no extra cost)

Select from eight standard colors 
The Benefits of The Premier Series Window Design
Glass block installations no longer have to look different than the other windows used in your home – inside or outside. Our exclusive 3-piece Premier Series aluminum frames were developed to allow separate colors for exterior and interior sides, and block energy transference with the thermally-broken design.
 Your Pacific Glass Block windows can complement other windows on the exterior side, and color coordinate with any tile, granite or wall finish on the interior side, and with no additional cost.
Our exclusive thermally broken frame provides excellent performance in any climate. Powder-coat finishes will perform much better, especially in high use areas like baths and showers, because of their extreme durability.
There are 8 stylish window colors to choose from that can be mixed or matched on each window, all standard.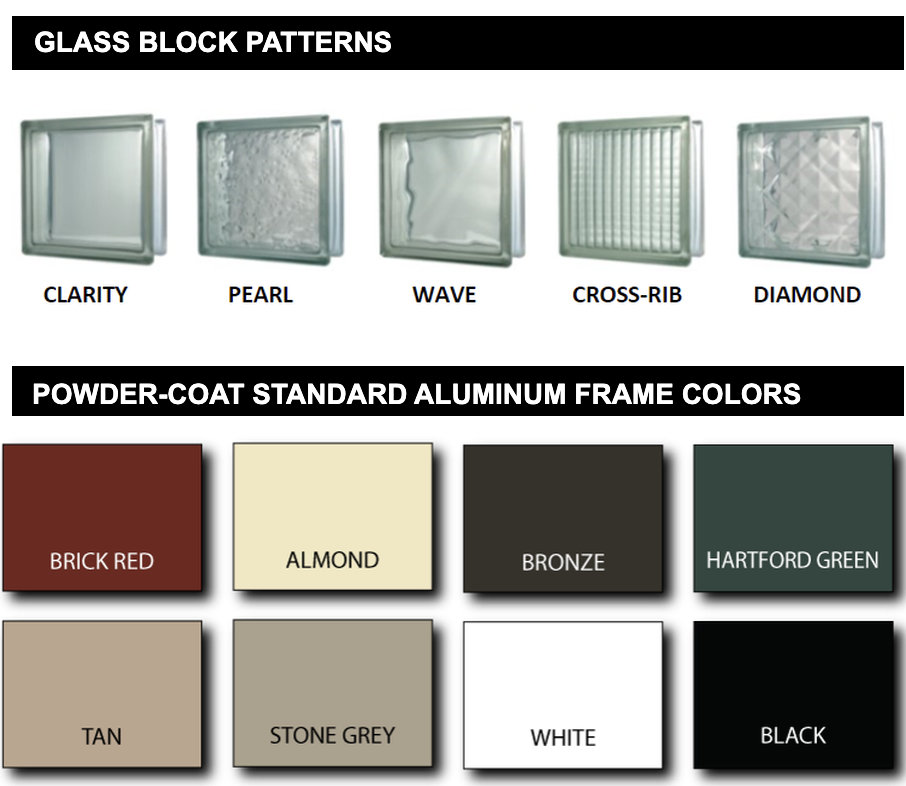 Privacy Comparison Between Block Patterns
Each of the 5 Premier Series glass block patterns can produce a completely different look and feel in a living space. To compare them, click on the assembled glass block photos below (Glass & Frame Options) for a closer look. These photos can help demonstrate the difference in the degree of privacy for each glass pattern and will provide a sense of the distinctive appearance of each pattern as well. As you can see, each glass pattern adds its own distinctive texture, so the atmosphere of a living space can be altered easily and dramatically.
 And in every window we make, we use specially formulated translucent sealants that have an anti-fungal agent blended in to prevent mold and mildew in wet areas.
Your Pacific Glass Block windows will be maintenance free and provide beautiful natural light and privacy for years.
 Premier Series Custom Options: (call factory for prices & details)
Natural clear pine interior frame finish to compliment other clad wood windows (cannot be used in wet areas)

190 custom powder-coat colors